NYC Concrete Polishing Services
Manhattan Concrete Systems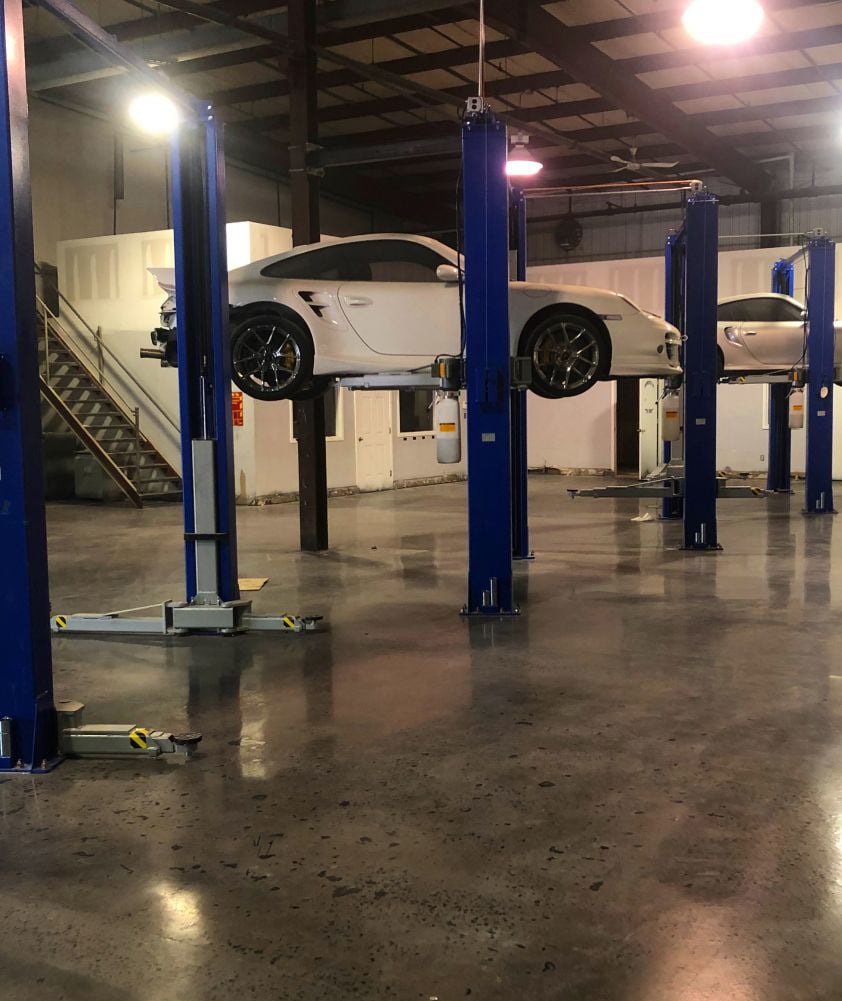 Concrete is the greenest flooring material on the planet
It saves trees, landfill space, and money.
Most modern buildings are built on concrete slabs. So what's the best way to install flooring? Leverage the original concrete. Opting for polished concrete flooring saves trees, sends less waste into landfills, and saves money. It also delivers a low-maintenance and durable floor that's beautiful and functional.

Concrete is generated in the quantity required for each job, minimizing waste. After the concrete foundation has fulfilled its original function, it is then crushed and recycled into aggregates. These aggregates can be used in new concrete pavements, backfill, or ground surface; making concrete almost fully recyclable.
Commercial concrete floors can be built anywhere on your property as long as they satisfy your needs, such as safety, durability, aesthetic appeal, and easy maintenance.
Polished concrete floors are ideal in the following settings: hospitals, factories, schools, stadiums, warehouses, industrial plants, and retail outlets. They're also seen in residential garages and basements, and in hotels, hospitals, government buildings, commercial enterprises, and industrial environments.
Inexpensive and longer-lasting than other flooring treatments, they are by far the most convenient and aesthetically appealing flooring option available.

Advantages of Polished Concrete
Concrete polishing is an option for almost any facility – it's a natural and attractive surface which fits most needs and practically all designs. The reliability and durability of concrete makes these floors a perfect fit for warehouses and other high-traffic applications, while the easy-to-clean surface makes the floor a great option for public spaces like shopping malls and schools.
Polished concrete is a cost-effective choice for flooring, both in the short and long term. The cost of polished concrete flooring per square foot is low relative to other forms of flooring. Now more than ever, office buildings and shopping facilities are choosing polished concrete overlays as an alternative to tiles, marbles, linoleum or plastic coatings. Clients can choose from high gloss to satin standard, suiting the cosmetic and maintenance specifications of their space.
Installing polished concrete provides you with the smoothest surface possible, and minimum vibrations when transporting products with forklifts. In turn, polished concrete decreases the cost of maintenance and wear and tear on forklifts and other wheeled vehicles.
Below are just some of the advantages of polished concrete floors:
Comes in matte to high-gloss finish

Hypoallergenic

Extremely durable

Slip resistant

Highly affordable

Reflective surface improves ambient lighting

Low maintenance costs

Long lasting

Water-resistant & stain-resistant

Reduces tire wear

Dust-free floors

Easy to clean and maintain

The best alternative flooring system to marble, wood, tile, and linoleum

Concrete Staining
Want to improve the elegance and appearance of your concrete floor? By applying a paint or dye prior to polishing, known as concrete staining, you can create a design that reflects your creativity, and that of your space. You can choose from a variety of shades, from neutral earth tones to deep jewel tones. Multiple colors may be used to make shapes with the aid of stencils, or with special staining techniques that generate a marble, or "galaxy," effect.
Limitations of Concrete Polishing
There are certain applications when polished concrete flooring may not work:
⛔ Ceramic Laboratories or other dusty environments
Polished concrete is not slippery when wet, but it can lose necessary friction when covered with dry, loose powder. Depending on the business, we will generally suggest slip-resistant floor coverings for these types of conditions.
⛔ Food Processing Facilities
While polished concrete is a great fit for grocery stores and other retail outlets, it's slightly porous despite its extra-dense surface. If you're processing food and beverages, you need something that is impervious to germs, usually a USDA-approved floor coating.
⛔ Chemical Environments
Polished concrete is not chemically resistant, and spilled oils or chemicals can discolor it. If you're looking for something more stain-resistant, we recommend an epoxy or urethane floor covering. When you are concerned with harsh chemicals, we suggest a highly chemical-resistant coating.


Polished Concrete Maintenance
Polished concrete floors are easy to maintain in an outstanding condition. Use an automated scrubber system in tandem with regular maintenance. Manual sweeping using a vacuum cleaner or wet mop is also encouraged. Over the course of a few years of regular care, the floor gets a perfect patina. In order to preserve its original high gloss, further polishing is recommended.
Polished concrete is an incredibly smooth surface to walk or drive on. It doesn't contain any dust, since there are no crevices, and it is slip-resistant. Polished concrete meets the highest requirements for the handling of electrical devices. It also has the best fire safety rating of all current flooring.

The MCS Process for Concrete Floors
At Manhattan Concrete Systems, we use only the best concrete polishing equipment, yielding the floors you envision for your commercial space. Our portfolio as a concrete polishing contractor encompasses some of the most prestigious buildings in New York City. We are trusted by – and have delivered results for:
Google,
Facebook,
Amazon,
UBS Arena and more!
Polished concrete is the finish of choice for many of the world's most prestigious brands. We've helped achieve a refined and luxurious look with polished concrete for the likes of Calvin Klein, HSN, Akon Brands, and Alice + Olivia. Check out our full flooring portfolio, which includes hundreds of successful projects that delivered attractive floors and satisfied clients.
Upgrade Your Floors Today
Do you have concrete that is damaged, stained, chipped, discolored, or showing signs of age on your property? Concrete polishing will ensure that the concrete lasts for several more years to come. Polishing concrete is certainly NOT a DIY project. Grinders weigh nearly 1,000lbs and feature fine grit diamonds. These tools are essential to get the best result possible, and part of the reason why you need to hire an experienced contractor.
As the leading concrete polishing team in the New York City area, our decades of experience allow us to provide the best customer service. Our team of experts will help make your property look its best.
MCS is committed to doing our job as a concrete polishing contractor with integrity and the highest standards. Subcontractors often call on us to fix botched or unfinished jobs.